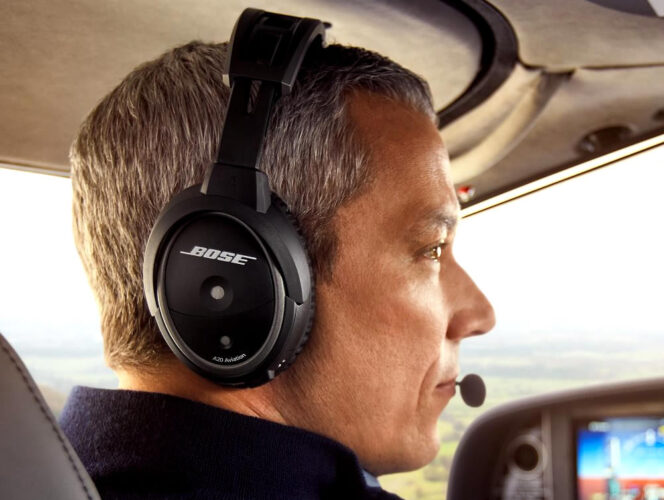 Bose has earned their reputation as one of the best audio companies, and they have ventured into aviation by releasing active noise reduction headsets with its Acoustic Noise Cancelling® technology. Now, most aviators consider the Bose A20 as one of the best headsets in the industry.
comfortable and stable fit
very lightweight
great noise attenuation
customizable audio prioritization control
active equalization
Bluetooth option available
long battery life
good sound quality
expensive at $1095 US
ear cuff can flake from use (replaceable)
headset is partially made of plastic
Even with the hefty price tag, it is a very good investment for a good headset. It's one of the best headsets in the market with optimal performance and an unmatched combination of sound quality, comfort, and noise reduction. Once pilots, whether a professional pilot or student pilot for flight training, finally decided to use the Bose A20, they often never turn back.
45-hour battery life
12 ounces (340g)
Active noise equalization – automatically optimizes sound volume
Active noise reduction
Bluetooth connectivity
Customisable audio prioritization – choose whether to automatically mute auxiliary audio during radio calls
3.5mm adapter cable
FAA TSO certified
Sheepskin headband cushion
hand-held audio controller
The Bose A20 comes in a black carrying case with 2 AA alkaline batteries, , and the headset assembly which composes of the headset, cable connector, control module or remote, straight or coiled cable, and two clothing clips.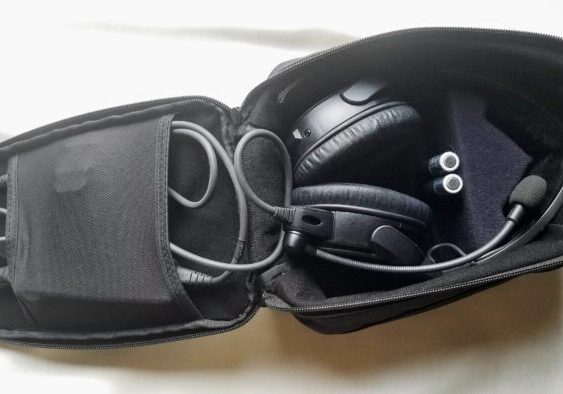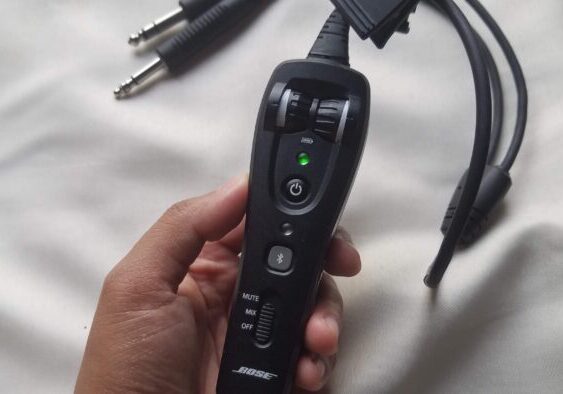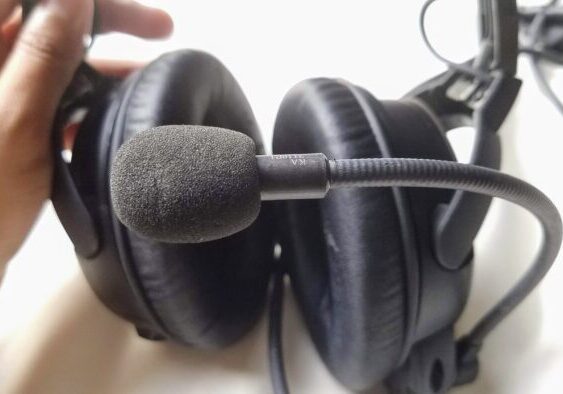 No bose A20 review would be complete without mentioning the amazing noise-cancelling technology. The Bose A20 aviation headset is designed for general aviation, especially high noise cockpits. Pilots flying in jet aircraft and low noise cockpits may not appreciate this function as much as pilots in high noise cockpits do.
The Bose A20 is one of the best, if not best, noise-canceling headsets. For pilots, it is very important to have headsets that protect hearing. Although the price may turn some people away, spending a hundred more bucks to protect your ears is worth it in the long run.
The Bose A20 has two forms of noise reduction: passive and active noise reduction. It cancels out selective background noise due to its passive noise-cancelling the moment you wear the headset and cancels out further noise when you turn on the active noise canceling.
Bose promises 30% greater noise reduction compared to conventional headsets. The headset uses multiple microphones in each ear cup to better sense the noise environment. The sophisticated electronics then react instant by instant to produce an opposite canceling signal. This happens automatically so there is no need to interact with the headset.
Some pilots may be hesitant about the active noise cancelling feature because of the fear of not hearing the outside environment, especially for flight training. Some pilots may say that the noise canceling is so good that it is too effective. For those who started flying with the A20, may feel like they are in a vacuum environment or the engine noise suddenly stopped. Even if you turn off the active noise cancelling turns off during flight, the PNR does a good noise reduction by itself. While some pilots prefer activating the ANR for comfort and ear protection, some prefer it off and rely on PNR so they can hear important noise feedback such as stall horns and engine noise more clearly.
Comfort is one of the most important factors for aviation headsets in general. Several professional pilots fly for hours and some conventional aviation headsets can be uncomfortable. The Bose A20 is comfortable to wear even on long flights.
The lightweight headband has minimal clamping force through its spring mechanism with a cushion below the headband.
The cushions on the ear cuff are soft and sits over and not on the ears which makes them comfortable. They are also easy to clean simply by wiping off their surface but expect that because of the material, they can eventually flake off so you need to take care of the cuffs or even buy replacements.
The headset is made of a mix of plastic and metal so it feels lightweight just at 12 ounces or 340g. The sheepskin ear cups cushion makes a comfortable headset compared to other headsets.
The Bose headset is also extremely light weight. Aside from the comfortable ear cuffs, the headset has less clamping force compared to several headsets due to its spring mechanism.
The sound quality of the Bose A20 aviation headset is superb and clear which makes it a high quality headset. When the active noise cancellation is off, it is similar to using ASA or David Clark headsets. When you turn it on, however, you can hear the huge difference. When it comes to sound quality especially when you turn on the active noise cancellation, Bose is definitely one of the best aviation headset.
It also has a high-performance microphone with clear audio. You can hear yourself, and others can hear you, very clearly over the intercom.
The Bluetooth audio quality is also amazing. Even with the Bluetooth feature, it is not allowed to take phone calls during flight and in-flight entertainment sounds such as to play music should be at low levels so as not to disrupt critical communications or important flight sounds.
For a flight instructor, it is recommended to let the student differentiate the sound of passive and active noise cancellation in the cockpit.
The active noise cancelling is powered by two AA batteries that supply at least 45 hours of power (unless you're using LEMO plugs that do not require battery use). Some pilots say it can even last for months if you don't use the active cancellation often.
Although the battery life is great, we always fly with two additional AA batteries in the headset case just to be sure.
The control module also comes with an Auto-Off functionality for smart shutoff when the headset is not in use and will automatically shut off minutes after to preserve the battery.
Aside from using it for communication and connection to aviation systems, with Bose A20, you can stream music wirelessly, connect to your iPad and other devices, and take phone calls from your cell phone outside the aircraft with its auxiliary audio input and Bluetooth capability.
The Bose A20 Aviation Headset allows you to decide the priority of the audio sources you want to hear while using the headset.
The audio priority has three modes:
Mute (Top) - Intercom is prioritized over auxiliary source. When intercom audio is detected, the auxiliary source is muted
Mix (Middle) - Intercom is mixed with auxiliary source. When intercom audio is detected, the auxiliary source is mixed
Off (Bottom) - Intercom only. Only the intercom audio is active.
The remote itself is user-friendly and straightforward and has an ergonomic shape that fits the handgrip well. The headset has a remote or control module with noise-canceling technology where you can control your volume, power, and Bluetooth settings.
The type of control module (with or without Bluetooth) and end-plug configuration (eg. dual plug) depends on what you chose for your headset.
To turn the active noise cancellation on, simply press the power button. The power indicator shows three colors for battery status: green for full, amber for halfway, and red for low and the battery needs replacement soon.
The intercom volume of the headset can be adjusted by two dials to adjust the volume on each side of the headset while the volume of the Bluetooth can be found at the right side of the remote.
The remote has a slider switch for Bluetooth for customizable audio prioritization.
Auxiliary audio input is located at the bottom end that allows connecting to an external audio source such as navigation devices or a portable audio device.
The customer service of Bose is generally good. You can contact Bose to inquire about spare parts and accessories, technical advice, installation information, and warranty and repair information. There is separate customer support for different regions worldwide.
Bose comes with a 5-year warranty from the day you purchased the headset. The warranty service includes repair and replacement of parts free of charge, and usually takes a few days to have your item fixed.
Frequently Asked Questions
What happens if I run out of battery? Will my headset still work?
When you run out of battery for your remote, you won't be able to use the active noise canceling function. Despite that, the headset will still function with its passive noise cancellation and will work as a conventional headset.
Will I be able to buy the headset without Bluetooth function?
Definitely! If you do not need the Bluetooth function to take calls or stream music, you can buy the headset without Bluetooth and it still has the active noise cancellation function.