david clark dC one x review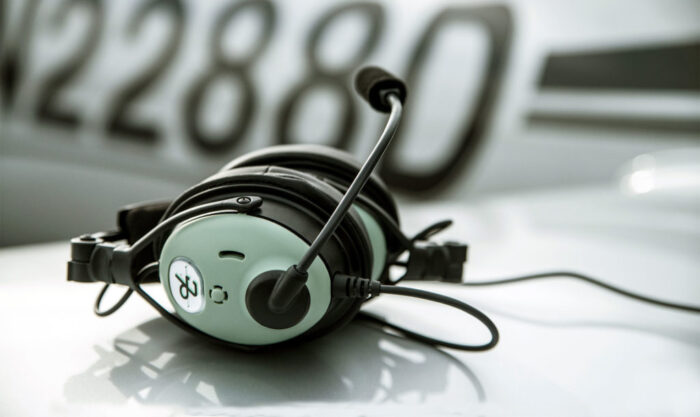 David Clark has a long history of working in aviation headsets as early as 1975 when the company introduced the first noise-reducing headset in the field of aviation. The David Clark headset was designed to protect hearing and reduce background noise while providing clear communication in a high-noise cockpit. Since then, the iconic green headsets are often considered the gold standard. David Clark released its new headset, the DC One X headset after the Pro-X, bringing its top build quality and design aesthetic featuring Hybrid Electronic Noise-Cancelling Technology (ENC), competing with companies like Bose and Lightspeed.
Light weight, comfortable and compact
Decent audio quality and active noise reduction
Durable and long-lasting
seamless Bluetooth® Connectivity
Moderate price at USD 895 for ANR headset
Stereo/mono selector switch is located inside the control module
No auto mute for phone audio when intercom is active
Some flyers report not liking like headband tension
There are more expensive but better ANR headsets
The David Clark DC One X stands out as a good headset with its build quality and design along with optimal performance, great audio quality and Active Noise Cancelling (ANR) all bundled together in a small and lightweight package. The headset is ideal for pilots who fly in high noise cockpits. It is one of the best headset for a more affordable ANR headset range, and some pilots call it the one.
Collapsible headset design for smaller space storage
Comes with a David Clark flight bag
Lightweight alloy headband weighing just 12.3 ounces.
Hybrid Electronic Noise-Cancelling Technology (ENC) technology
Outlast® fabric heat pad technology with a breathable, vented design that responds to skin temperature for comfort
Patented Thermocules™ for additional temperature control
Comfortable ear seals made with soft memory foam covered with Dura-stitched leatherette
Fail-safe by ensuring fully functioning communication in cases like control module failure
Digital Signal Processing (DSP) Technology for high-quality audio
M-5B Electret Microphone for noise cancellation
Straightforward control module with multi-function controls
Backlit, touch-key interface for module controls
Dual volume controls for each side of the ear with up to 10 volume levels
Bluetooth® enabled
50 hours of battery life  with 2 AA batteries
Easy to understand control module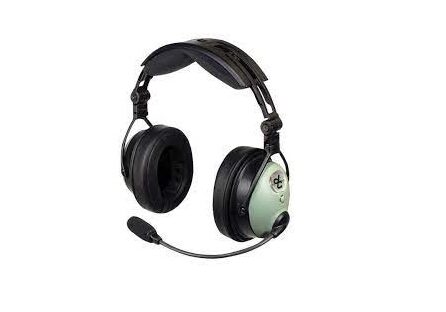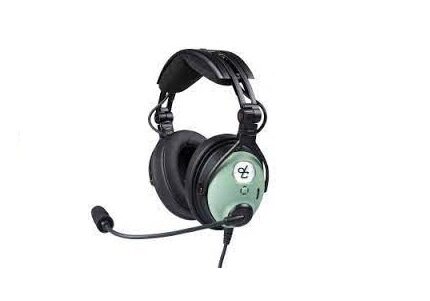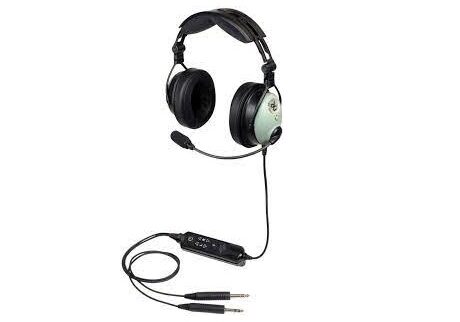 The DC One X showcases an adequate active noise attenuation headset with its Hybrid Electronic Noise-Cancelling technology that is achieved with the help of feed-forward (external) and feed-back (internal) microphones. The noise gathered from the exterior microphone is inverted with the signals from the internal microphone that produces an anti-noise signal before it reaches the pilot's hearing.
Even with the noise canceling technology, it does not completely cancel out noise, particularly important sounds that pilots need to hear and look out for such as stall horns and engine sounds.
While the performance is modest compared to other ANR headset, it does the job well. Without the active noise cancellation in cases that the battery is off, the passive noise cancellation still works great thanks to its tight and comfortable ear seals.
The DC headset highlights comfort as one of its best features. Its Outlast® fabric heat pad responds to changes in skin temperature and the Patented Thermocules™ located on the head pad adapts to environment temperature. The combination of the two, along with a vented head pad design, results in controlling the temperature on the pilot's head and provides superior comfort, especially during longer flights.
The One X ear cups is a circumaural or over-ear model that completely fits around the entire ear, which performs better compared to other headsets with supra-aural design. Compared to its equivalent Bose headsets, One-X offers a better seal around the ear, especially when wearing shades and eyeglasses—which is a huge plus in comfort for an ear cup.
The David Clark One X has a lightweight alloy headband that can be adjusted to about any head size. Its small frame makes it a good choice for people with small headframes. While the clamping force help distribute the weight and relieves pressure, some high-end and more expensive headsets perform better in this category.
The audio quality is good with its clear and concise audio delivery without any delay. Intercom communication is smooth where you can hear incoming communications clearly and those receiving your transmission can hear you loud and clear due to its M-5B Electret microphone with enhanced noise cancelling headset.
Adjusting the headset volume is easy with the control module simply by pressing up and down. You can adjust the volumes from each ear independently.
The battery life of the David Clark DC One X can last up to 50 hours with 2 AA batteries. The headset will continue to function with the batteries removed or depleted with passive noise cancelling, but certain functions such as Bluetooth connections and independent volume control will become inoperative.
Inside the battery box, you can see a selector switch for automatic shutoff. The automatic shutoff turns the device off after five minutes after it's not in use. You can also switch off the Auto-Off feature via a small switch under the batteries.
You can check the battery status by checking the color status, especially when the battery is running low. When the battery is low, the power key flashed red.
The DC One X headset comes with easy Bluetooth® connectivity with Bluetooth-enabled devices such as mobile phones, tablets, and GPS. The Bluetooth center is located on its control module.
The wireless entertainment audio is excellent even if the volume is set to maximum. For those who plan to listen to music, the quality of the music is really good. When listening to music and on the intercom, the headset will be in default mode where music will mute to prioritize communication. Once the intercom is over, your music will resume. You can also set your headset in a mode where the music won't mute in the middle of communication. In default mode, you will hear two falling two-tone chimes and rising two-tone chimes in non-default mode.
With DC One X, you can also make phone calls as long as your mobile device supports the feature. By pressing the Bluetooth® button on the control module, a pilot can pick up or hang up calls. When making phone calls, a sidetone is always present. All intercom can hear what the pilot is saying in the middle of a call but the recipient's voice can only be heard only by the headset paired to the cell phone. Of course, taking phone calls while flying is not recommended and may even violate regulations.
While the David Clark headset has a music muting feature, it does not have a muting feature for phone calls.
David Clark Company is one of the best customer support in the industry, that offers prompt and efficient customer support to answer inquiries for its David Clark headsets. You contact customer support by landline (US landline and outside US landline) or by the website.
David Clark provides a full warranty for its products. The DC One-X headset comes with a 30 day, money-back guarantee and a 5-year warranty. David Clark also prides itself in excellent repair policy—many repairs are covered under warranty, and sometimes even accommodate products that are beyond warranty.
Frequently Asked Questions
What happens if I run out of battery? Will my headset still work?
When you run out of battery for your remote module, you won't be able to use the active noise cancelling and Bluetooth function. Despite that, the headset has a fail-safe feature to ensure full communication and function like a conventional headset with its passive noise reduction.