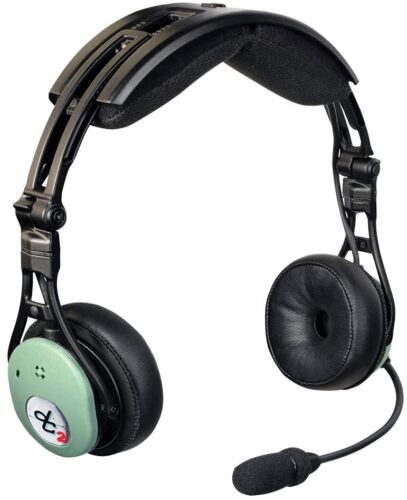 The David Clark PRO X2 headset is the predecessor of the DC PRO X Series, which David Clark calls its "first, true 'crossover' headset in aviation". Designed to target both general aviation and commercial jet pilots, it features optimized comfort with its on-ear or supra aural ear cup design and is lightweight. It is an ANR headset compared to the DC-PRO 2 that is only a passive noise attenuating headset.
Compact and extremely lightweight design for ANR headset
Comfortable even with eyewear without compromising earcup position
Good battery life at 5o hours
Clear microphone and audio performance
Able to adjust volume independently of each ear
More affordable at USD745-785 compared to other ANR headsets
A little top-heavy, causing instability when moving head
Not the best noise-cancelling headset in the market
Compromised passive noise reduction (PNR) due to ear cups design
No separate volume control for Bluetooth on the control module
Some pilots still prefer over-ear design
The DC Pro X 2 is designed for more comfort with some compromise on the noise reduction quality. It can be a hit or miss for pilots who can switch from over ear to on ear headsets. This is great for pilots who fly in low to medium noise environments because of its superior comfort. For high noise conditions, the noise attenuation still does its job but not as well as over-ear, especially when passive.
Adjustable magnesium alloy headband suspension system for less clamping force
Extremely light weight at 7.5 oz
Breathable, heat-absorbing, vented head pad with Outlast® technology
Supra aural or "on-ear" made of plush leatherette ear seals
Hybrid Electric Noise Cancelling (ENC) technology for "feed-back" and "feed-forward" advanced active noise reduction
Automatic Gain Control (AGC) to optimize ANR in high noise environment
Digital Signal Processing (DSP) Technology for excellent listening quality
M-5B Electret Microphone for clear communication
Full flex mic boom for left or right placement
Stereo/mono switch
Guaranteed fail safe intercom operation
Control module either operated by two AA batteries or aircraft-powered
Bluetooth® and non-Bluetooth® options available
50 hours control module battery life for ANC
Compact design for easy storage
Comes with the standard David Clark headset case
Enhanced AutoShutOff for battery conservation
FAA TSO C139a Approved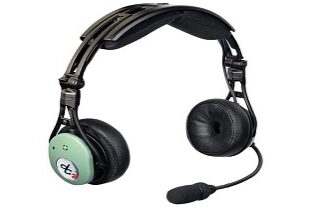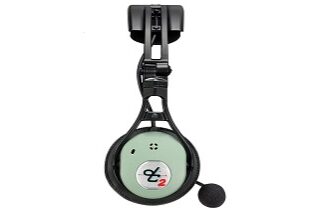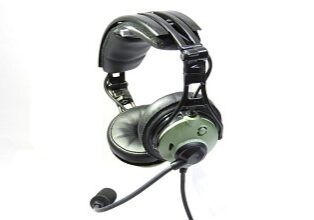 The David Clark Pro X2 features advanced ANC with its Hybrid Electric Noise Cancelling (ENC) technology. It also features an Automatic Gain Control (AGC) that optimizes ANR in high noise environments.
While it has excellent ANR performance, it is not as impressive as other over-ear ANR headsets that are built to maximize noise attenuation. The downside of the ear cup's design is when it functions on its Passive Noise Reduction (PNR) mode. While still functional, more noise can penetrate compared to over-ear headsets where they completely surround the ear. It can still be used for general aviation but is not the best when it comes to noise attenuation.
The David Clark Pro X 2's main feature is its supra aural or "on'ear" ear pads that sit on top of the ears instead of fully surrounding the ears. The pads sit well on top of the ears without putting too much pressure. The head pad is soft with heat-regulating Outlast® technology to keep the pilot's head from being too hot or cold.
It is a light headset made of magnesium alloy at just 7.5 oz or 215 grams. This is a huge plus for pilots flying long haul flights. There is a less clamping force due to its suspension system where you adjust by the sliding assembly. Most of the time, it is comfortable to wear eyewear due to the contour of the headset frame.
The headset can fall off if you change head position, especially tilting, so pilots have to ensure that it is securely fit.
The David Clark Pro X2 has a Digital Signal Processing (DSP) Technology that provides excellent audio quality. Both microphone and audio sound are great and sounds from both intercom and Bluetooth devices are crisp and clear. There is only a single volume adjustment at the module; there is no separate sound volume adjustment for Bluetooth devices.
While the factory default is Mono, you can switch from Mono to Stereo inside the module.
The David Clark Pro X 2's control module is powered by 2 AA batteries that can last 50 hours of continuous non-Bluetooth use, although some report that it can last longer. An Enhanced Auto-Shutoff feature eliminates accidental loss of battery power by conserving.
A bright blinking power indicator can be an annoyance to pilots flying at night or dimmer cockpits so the module also features a Dark mode for its light power indicator.
While the dual plug type is only battery-powered, other headsets with a 6-pin or 5-pin XLR connector can receive power from the aircraft. Not all aircraft are capable of providing power so batteries take over.
The David Clark Pro X 2 has Bluetooth that allows the headset to connect to cell phones, tablets, or other devices. Set up is easy and fast and the Bluetooth's audio input is nice and clear.
The Bluetooth also does not get in the way of the intercom. It cuts out immediately when ATC communications come in without missing a single syllable.
Bluetooth headsets are not the only option available. The dual plug and 5-pin XLR offers non-Bluetooth options for pilots who need headsets without Bluetooth to comply with company standards.
David Clark's customer support has an excellent reputation for its prompt and polite customer service, making it one of the best in the industry. You can contact David Clark's customer service through telephone, email, and website.
The David Clark Pro X 2 comes with a 5-year warranty period with a 30-day money-back guarantee worldwide. You can also register your headset to David Clark for warranty purposes. Many repairs and replacements are covered by warranty and mostly won't charge anything to their customers.
Frequently Asked Questions
How does the Enhanced Auto-Shutoff work?
If connected to the aircraft, it automatically shuts off after 5 minutes after either the audio panel is off, a phone call is activated, or is disconnected. The factory setup is off so you will have to manually switch it on. If not connected to aircraft, power is controlled by the power button for continuous phone call and Bluetooth use.