bose proflight series 2 review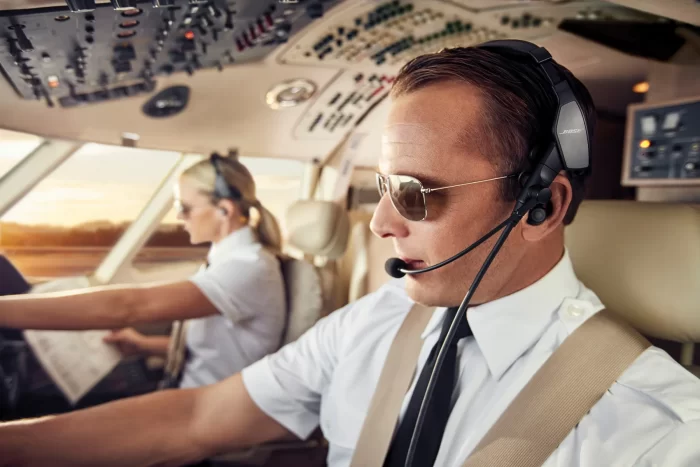 Bose has proven itself to be one of the best brands for aviation headsets due to its excellent active noise cancellation (ANC) and clarity, and Launched last 2019, the Bose Proflight Series 2 Aviation Headset is their smallest and lightest in-ear aviation headset. The Proflight is Bose's answer for pilots who fly in situations like crewed low-noise cockpits and longer flight conditions.
Comfortable and stable fit especially for long flights
Very lightweight headset compared to conventional headsets
Great noise attenuation and clarity
Longer battery life
Comfortable even with eyewear
Expensive at USD 1095 (Bluetooth) and 995 (non-Bluetooth)
Some cushion headsets provide better noise canceling under high-noise cockpit environments
No volume control for intercom; has to be adjusted through the panel at the flight deck
Can take some time to adjust the tips to perfectly fit in your ears or ANC will not work as well
Limited noise reduction protection when battery runs out
For pilots who fly low to medium noise cockpits, crewed environments, and long flights, the Bose Proflight Series 2 is perfect. Once a pilot gets used to the unique design of the Proflight Series 2, they often never go back!
Lightweight at 4.5 ounces (128 grams)
Contoured headband for less clamping force
Three levels of digital active noise cancellation
25-hour Bluetooth and 45-hour non-Bluetooth battery life
Comes in either conventional or Bluetooth-capable
Flexible, adjustable microphone assembly consists of Electret noise canceling boom mic, microphone base, and cable that can rotate up to 300°
Rotating side pads for adjustable comfort
Earbud storage hook to stow earbud for single earbud use
Improved thinner flexible cable
Side swappable mic without the use of tools
Tap control to automatically set to low noise-cancelling for talk communication
Ergonomic control module to regulate ANC and Bluetooth
Plugs come in general aviation twin-plug, five-pin XLR, seven-pin XLR, or six-pin LEMO plug
Comes in a black carrying case and hook, 2 AA alkaline batteries, control module holder, and large (black) and small (white) StayHear+ tips (medium or grey is attached to the earbuds)
Enhanced experience with Bose Connect app (available on Apple and Android)
FAA TSO certified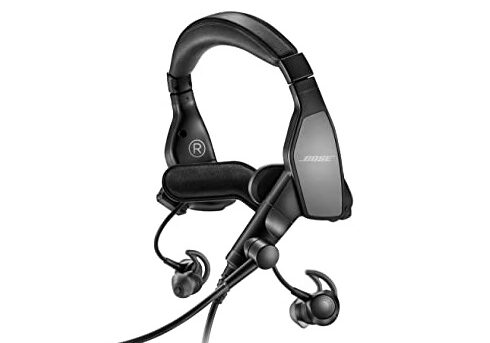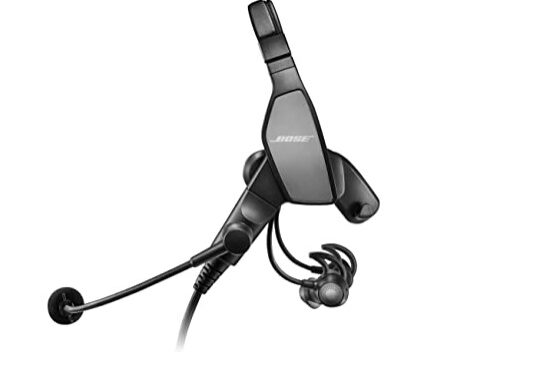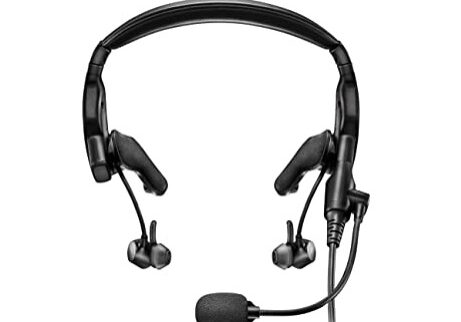 The Proflight headset has an unconventional in-ear design and it can take time to adjust the tips to perfectly fit in your ears or ANC will not work as well. It can also take time for pilots to adjust to the design as well as its ANC control. The noise reduction is great for pilots flying in low to medium noise cockpits. It boasts three user selectable modes of digital ANC:
High - maximum ANC for radio communication in high-noise cockpit
Medium - balance of ANC and clarity for low to medium-noise cockpit such as jet aircraft
Low - for communication with people outside intercom and ground operations
It also features a Tap Control for talk through communication with people outside the intercom such as flight attendants. It works during High or Medium ANC settings where tapping results in Low ANC to low without removing the headset.
Even in a high ANC setting, it does not cancel out 100% of the environment noise, which is important for hearing vital sounds such as alert sounds. For high-noise aircraft such as turboprops, it can still reduce noise at high-level ANC but has its limits compared to headsets with ear cups.
It is important to have a battery when using the ANC function as it does not provide as much protection as oner-ear headsets when the battery runs out.
Airline pilots love the design of the earbud headset because it feels very lightweight and comfortable for long flights with only 4.5oz on head weight. The earbuds rest in the ball of the ear and the winglet helps keep the buds keep in place. The earbud comes in 3 color-coded sizes that are easy to interchange. Custom size earbuds are also available via a third-party provider. If you want to use one earbuds at a time, there is a clip at the side of the headset where you can put aside your earbud so it won't be dangling around.
It also has a thinner cable compared to the original Proflight, where the previous model's thicker cables were an inconvenience to pilots.
The headset has a contoured headband for less clamping force and a replaceable headband pad for comfort and hygiene. It has adjustable side pads that secure the headset and provide extra comfort. Even with eyewear, they are still comfortable and does not cause pressure because the foam layer provides cushion and space for your eyewear.
Another convenient feature is the side swappable mic that does not need tools like screwdrivers for pilots that change seats in the cockpit.
As expected, it has the Bose quality level of great audio quality that is clear, from intercom audio, Bluetooth audio, and microphone output.
It also has a high-performance microphone with clear audio. Audio feedback between pilots and towers can be heard loud and clear. The microphone is upgraded so that it can assist pilots with the microphone orientation and adjustment by adding mic winglets and a dot indicator.
The Bose Proflight Series 2 is powered by two AA batteries. Without Bluetooth, it can last for 45 hours and with Bluetooth, can last up to 25 hours. The battery life can depend on aircraft noise, ear tip condition, Bluetooth use, and the quality of batteries. Battery level can also be determined by the power light on the control module. It automatically turns off when the headset is not in use after a while.
For dual plug for general aviation, the headset is only powered by battery. For other connectors, flex power is available where the headset can be powered by either aircraft or battery power depending on the aircraft's configuration.
The Bluetooth function allows the headset to connect to the aircraft and other Bluetooth capable devices such as mobile phones and up to two devices can be connected at the same time. The app offers extra features to make the most out of the Bluetooth feature. However, it does not have an auxiliary input like the Bose A20.
Blutooth priority mode:
Mute - activates when intercom is active
Mix - Blutooth audio can be heard as background during intercom
Off - Bluetooth is disabled
The volume of Bluetooth can be adjusted at the right side of the control module.
The headset also offers an option to not have the Bluetooth feature on the headset as some airlines do not allow Bluetooth headsets.
Bose has generally good customer service. You can contact Bose online to inquire about your headset such as parts and accessories, inquiries, and warranty and repair information. There is also separate worldwide customer support by visiting their website and Bose dealers.
The headset comes with a limited warranty. It has a 60-day risk-free trial and a 5-year warranty. The headset comes with a product registration card where you can register your headset, but failure to do so won't affect warranty rights.
Some products like side pad cushions and the Stayhear+ tips need regular replacement and they can be purchased on Bose.
Frequently Asked Questions
What if I already have a Proflight?
Bose extends the warranty to five years for the Proflight as well where you change parts such as the thick cable. While the initial program for Proflight owners is temporarily closed, you can visit the website (Trade-up | Bose Aviation (boseaviation-emea.aero) to check for updates.
What happens if my battery runs out?
For headsets that run with flex power where the headset can run with both battery and aircraft power, it does not usually pose a problem. Headsets that do not have flex power such as dual plugs for general aviation solely rely on the battery for their ANR. When battery depletes, the ANR feature disappears as well.